Our Green Ideas
Posted in: About Valley Northern
18th May 2017
We believe the environment needs looking after and appreciating, which is why here at Valley we try our best to ensure our products are as environmentally friendly as possible.
Confidence Gloves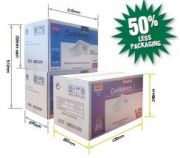 We've literally halved the amount of packaging on our Confidence nitrile glove range, meaning we now supply 2000 gloves in exactly the same size packaging as we used to sell 1000, meaning the costs are reduced. This is saving on average 560kg of cardboard waste annually. This saving is them passed to all our customers, ensuring we are competitively priced while still ensuring excellent quality.
Tablet Bottles
We use Unopac and Pharmasafe branded PET bottles, which are much more environmentally friendly than their PVC alternatives.
Bags
Every single one of our paper bags is 100% recyclable and 100% biodegradable, meaning you can be sure you're doing your bit to help the environment too. Every single one of our plastic carries, are also recyclable.
Paper Products
Our paper hand towels are sourced from managed forests meaning trees are replanted. This is a much needed help to the environment, and we are proud to be able to help out where we can.
Valley Northern Offices
We've ensured our 'green' culture starts on the inside. All our internal and external lights have been upgraded to LED meaning less damage to the environment, by being up to 80% more efficient than traditional florescent and incandescent lights.