Harry's January Update
Posted in: About Valley Northern
30th January 2017
Wow! What a January it's been!
I thought I'd write about the recent goings on here at Valley, I don't want any of you to miss out. People are certainly interested in me that's for sure, I can't wait to show off some of the exciting things I've got planned.
So far I'm already offering you a free fan heater with orders of paper or plastic carriers, and I've even thrown out a special offer on Nitrile Gloves from only £2.49 for 100…….shh don't tell the bosses though, they'll think I've gone mad!
Our new courier system is working brilliantly, meaning we can track your order all the way to your door so you don't have to worry. Have we told you that we are the first company in the UK trialling this system? We certainly like to be ahead of the game here!
I've been having regular photo shoots over the last few weeks, getting ready to have my smiley face all over a lot more things……have to say, it's getting a bit embarrassing being in hair and make up all the time though!
The team here have really made me feel welcome, every time I go into someone's office they're asking for pictures of me, so I thought I'd share some with you so can see what I've been getting up to...
I snuck into the bosses office when he wasn't looking....I hope he doesn't see this one!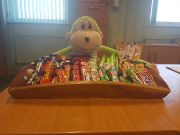 Here I am helping myself to the team chocolates....I did leave them some, I promise!
I still get homesick from time to time, here's me taking a time out in the tree in reception!
Well, just a quick one for now, I must dash I'm so busy! Can't wait to share more exciting things with you....
Bye for now....Harry